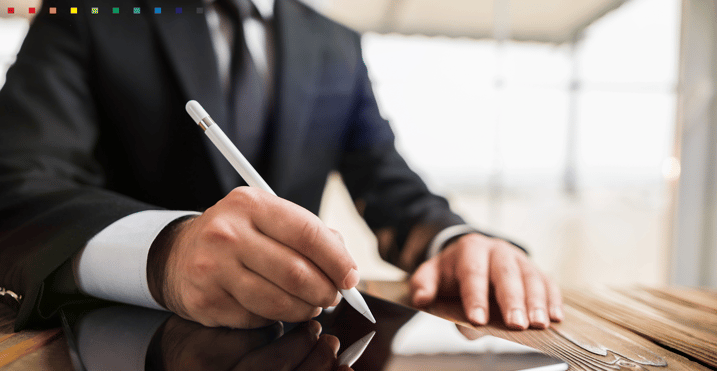 EPI-USE Labs supports electronic signatures leveraging DocuSign. This functionality is embedded as an output extension/destination inside our Query Manager with Document Builder solution, leveraging the third-party solution DocuSign which allows customers to electronically sign, prepare, act on, and manage documents.
Popular Examples of Electronic Signatures for HCM
We wanted to enable the digital, mobile-friendly experiences that employees expect. Employees are required to sign several types of employment-related materials, including the samples in the table below.


Inserting the Signature Placeholder
It's easy to insert the Signature Placeholder into your document where you want it, as seen below:


Adding a Signature Requirement is Easy
On your Query Manager screen, simply select the appropriate File Output type DocuSign: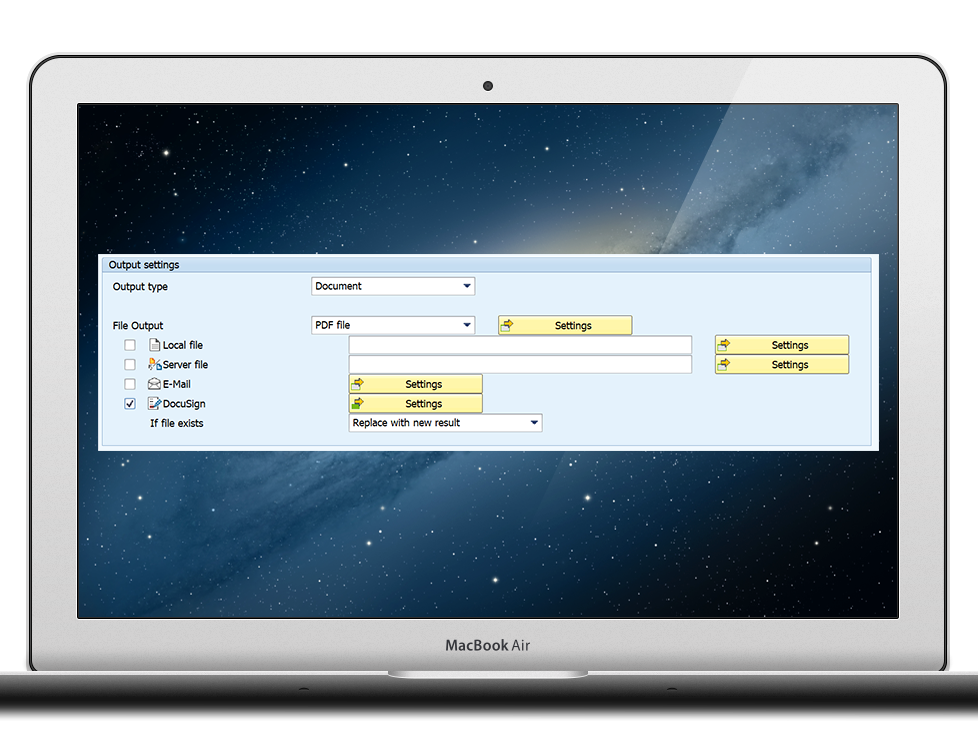 Customize your email communication.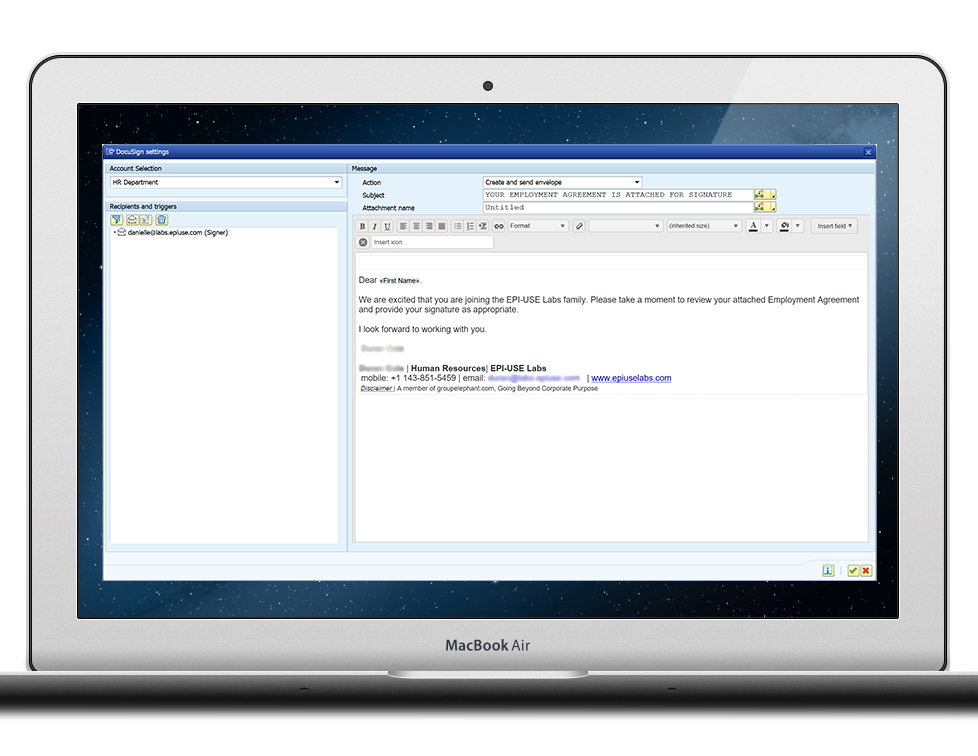 Execute your report, and your email will be sent.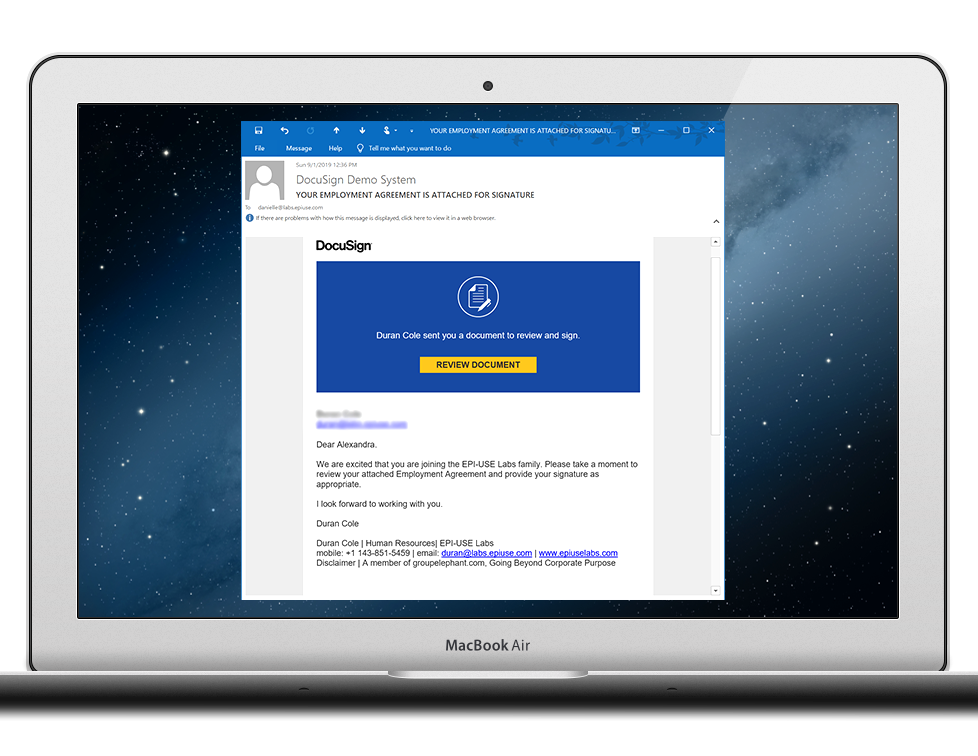 From there, the recipient selects the Review Document Link, and is directed to the DocuSign website.


The recipient has several options, but the most basic is to continue and sign.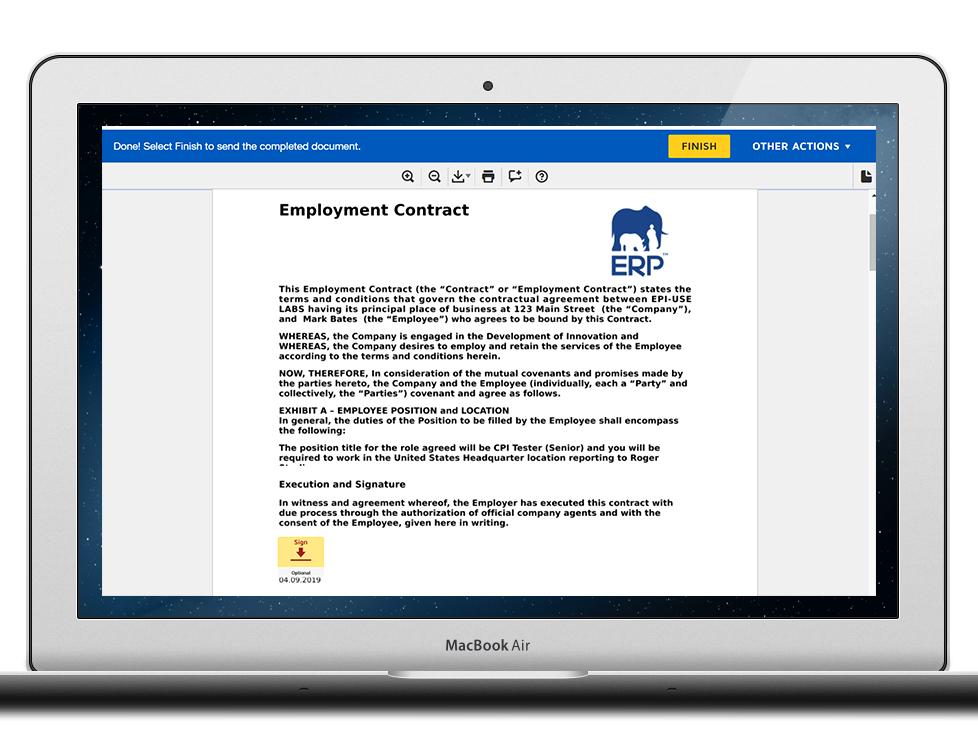 Select the Sign button.


The Sender will receive a signed copy of the document.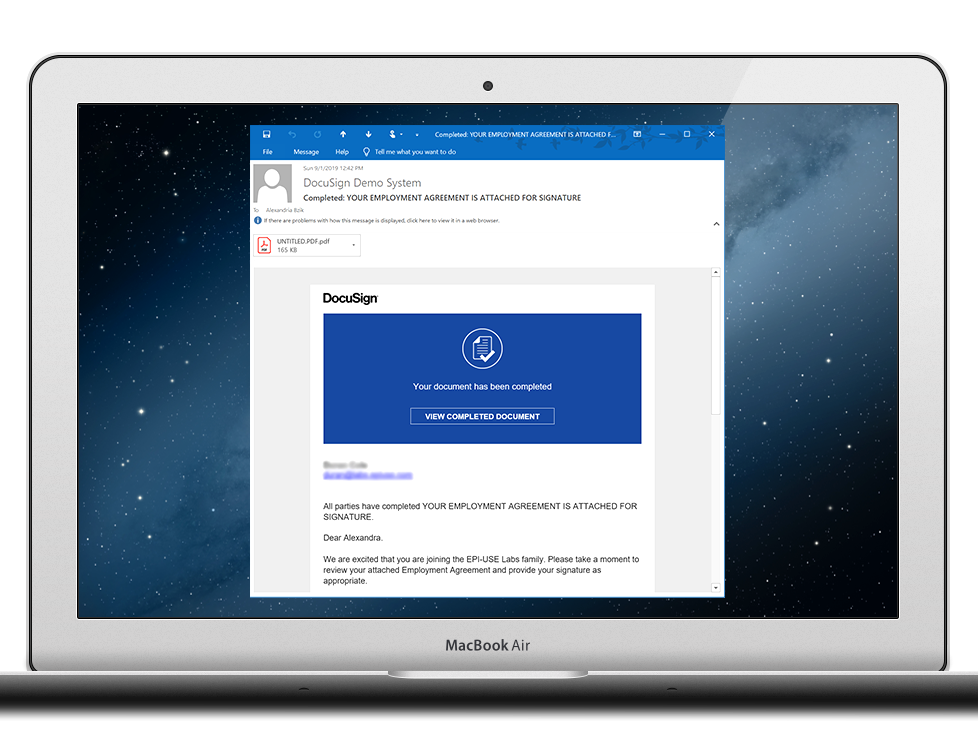 Samples of Electronic Signatures for HCM
| | | | |
| --- | --- | --- | --- |
| Area | Use Case | Type | ROI |
| Compensation & Benefits | 401(k) Annual Plan Summary | Acknowledge | High |
| Staffing Management | Annual Compliance Agreement | Sign | Medium |
| Employee Onboarding | Background Check Consent | Sign | High |
| Compensation & Benefits | Benefits Elections | Sign | Low |
| Compensation & Benefits | Benefits Summary | Notify | High |
| Staffing Management | Business Card Details/Request | Collect Data | Medium |
| Safety & Security | Code of Conduct Policy | Acknowledge | Medium |
| Staffing Management | Compensation Policy/Information | Acknowledge | Medium |
| Staffing Management | Confidentiality | Sign | Medium |
| Employee Onboarding | Direct Deposit Authorization | Sign | Low |
| Employee Onboarding | Drug Screen Consent | Sign | High |
| Technology | Email Policy | Acknowledge | Low |
| Employee Onboarding | Emergency Contact Information | Collect Data | Medium |
| Staffing Management | Employee Annual Review | Sign | Low |
| Staffing Management | Employee Bonus Agreements | Sign | Medium |
| Employee Onboarding | Employee Requisition for Headcount | Sign | Medium |
| Staffing Management | Employee Status Change Request | Sign | Low |
| Employee Onboarding | Employment Contract | Sign | High |
| Technology | Equipment Policy | Acknowledge | Medium |
| Staffing Management | Ergonomic Workstation Evaluation | Approve | Medium |
| Staffing Management | Ethics Policy | Acknowledge | Medium |
| Staffing Management | Expense Policy | Acknowledge | Medium |
| Staffing Management | Harassment Policy | Acknowledge | Medium |
| Staffing Management | Holiday Schedule | Notify | Low |
| Employee Onboarding | Application | Sign | Medium |
| Staffing Management | HR Incident Report | Collect Data | Medium |
| Employee Onboarding | I-9 Form | Sign | High |
| Employee Onboarding | ID and Access Badge Responsibilities | Acknowledge | Medium |
| Technology | Internet Policy | Acknowledge | Medium |
| Staffing Management | Leave of Absence Request/Approval | Approve | Medium |
| Employee Onboarding | New Hire Onboarding Checklist | Notify | High |
| Employee Onboarding | New Hire Welcome Letter | Notify | Low |
| Staffing Management | Non-Disclosure Agreement (NDA) | Sign | High |
| Employee Onboarding | Offer Letter | Sign | High |
| Employee Onboarding | Referral Bonus Form | Sign | Low |
| Employee Onboarding | Sales Compensation Plan | Sign | High |
| Safety & Security | Security Awareness Policy | Acknowledge | High |
| Technology | Social Media Policy | Acknowledge | Low |
| Compensation & Benefits | Stock Option Agreements | Sign | Medium |
| Staffing Management | Telecommuting Request/Approval | Approve | Medium |
| Staffing Management | Termination Agreements | Sign | Medium |
| Staffing Management | Travel Policy | Acknowledge | Medium |
| Organizational Development | Tuition Reimbursement | Approve | High |
| Employee Onboarding | W-4 Form | Sign | High |
| Labor Relations | Work Opportunity Tax Credit (WOTC) Form | Sign | Low |
| Staffing Management | PTO/Vacation Request | Approve | Medium |
This blog covers only a simple example of how you can leverage the DocuSign functionality in Query Manager with Document Builder. There are many more examples. Reach out to learn more, and to see a live demo of our integration.

SEE HOW DOCUMENT BUILDER HELPED DORSET COUNTY COUNCIL